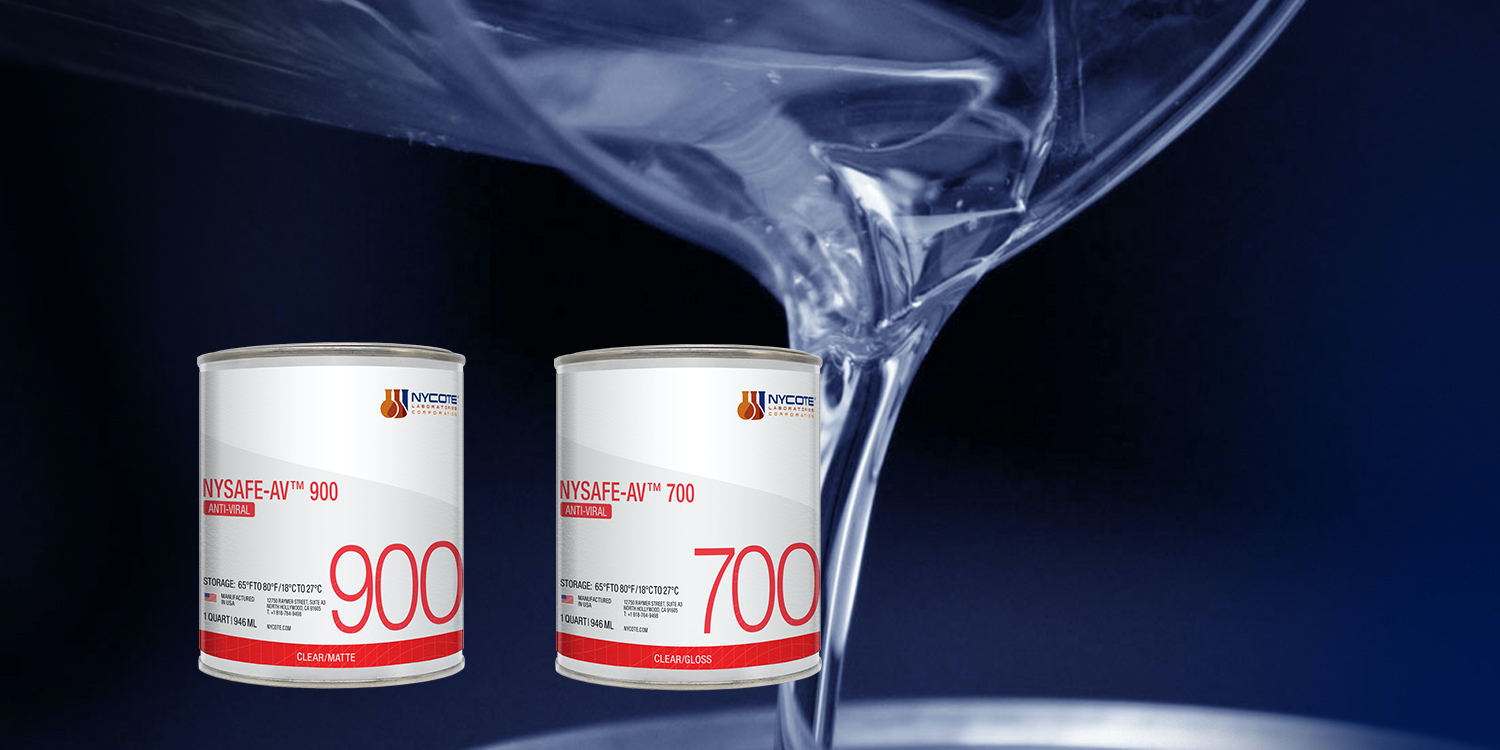 Nysafe-AV 700 and Nysafe-AV 900 by Nycote Laboratories Corporation is an advanced material high performance permanent surface coating that provides high-touch surface protection.
Nysafe uses a safe, effective additive that is proven to have antimicrobial and biocidal activities against various human pathogens while being safe for human touch. This additive has been widely applied in the process of catalysis, drug control delivery, biosensors, and biofuels. It is widely chosen as a catalytic material because it has many advantages, namely thermally stable, chemically inert, and harmless. The micropore category is incapable of providing an entryway for applications involving large molecules.
High-touch surfaces are in need of permanent, long-lasting antiviral surface coatings that do not need to be reapplied in hours, days, or weeks. An antiviral surface coating that has been proven to effectively disrupt enveloped viruses like SARS-CoV2 adds extreme value to industrial applications, the transportation industry included.
Surface protection products must provide more protection than simply being Antimicrobial, which really indicates the effectiveness for bacteria and viruses to attach and grow on the surface of a substrate. Antiviral products provide a high-level of efficacy on surfaces in that they prevent the cell from reproducing, rendering it harmless.
Now, Nycote Laboratories has formulated an industrial surface coating that can be applied once and is considered a long-life product. Nysafe formulation is unparalleled in that it has been tested to the actual SARS CoV2 virus at a biosafety level 4 laboratory. It is safe and yields a high-level efficacy to bacteria and viruses. The product offers double protection affecting pathogens. The Nylon hybrid coating can prevent cell growth and penetration on surfaces and can also be impregnated into a variety of materials as a resin additive.
Benefits
Easy to apply by brush, spray, or dip method
High-performance long-lasting antiviral surface coating
Nylon protection with the ability to completely encapsulate high-touch surfaces
Pinhole free and self-leveling cross-linked hybrid coating technology
Proven resistance to chemicals, coating remains strong and flexible
60 years of experience manufacturing unique protective coatings
60 years experience collaborating with our customers and meeting their performance specifications
REACH Compliant and ingredients are not listed SVCH
Why Nysafe?
In the coatings industry, there is need for permanent antiviral surface coatings that also ensure proven performance in harsh environments.
Nycote Laboratories Corporation is a chemical coatings company with a unique trusted formulation used on a large number commercial, business, and military aircraft and in other industries, such as, Automotive, Medical, Marine and Rail. Nycote legacy coatings are known for providing excellent microbial, chemical, conductivity, friction, and wear resistance on mission critical parts and systems.
Nycote takes its proven and trusted technology to a new level with an enhanced Anti-Viral coating formulation. Nysafe was applied to substrates tested to the SARSCoV-2 virus at a BSL-4 Laboratory authorized to handle the virus. Nysafe performed high-level efficacy disrupting the enveloped cell membrane and effectively protecting the treated surface. At the time of testing, the treated slides were aged nearing five months. This means that the surface is well-protected from viruses for five months. Continued testing will move forward as the slides age.
Nycote Laboratories is currently collaborating with companies manufacturing high-touch surfaces for aircraft interiors, automotive interiors, textiles, medical devices, and space. Nysafe is ideal for long term surface protection with technologies that have evolved over 60 years and trusted by companies across the globe.
For samples, please see our website at Nycote.com. If you need technical advice or more information, please contact sales@nycote.com.