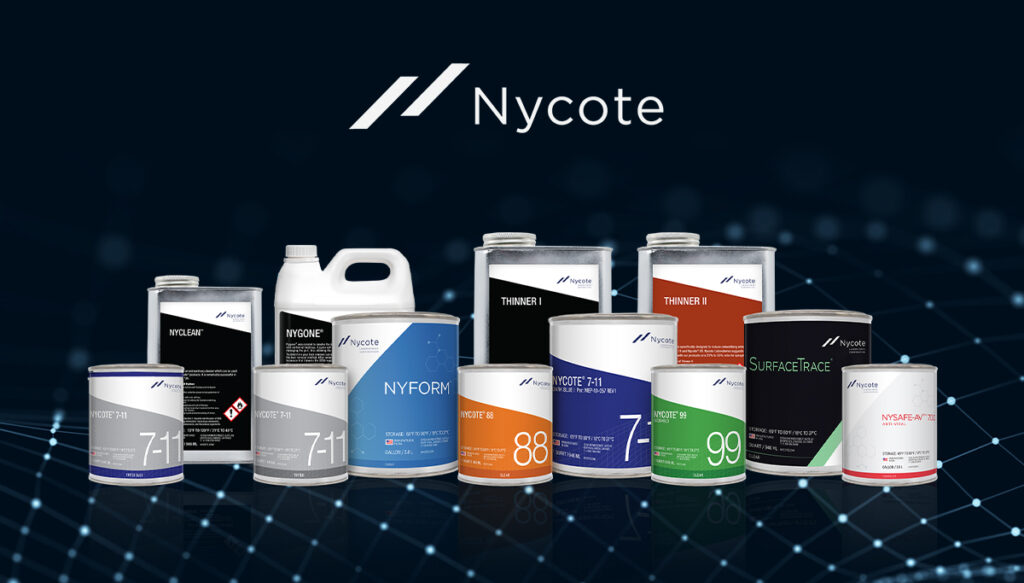 At Nycote, we are building a strong line of specialist thin film protective coatings for the aerospace, defense, electronics, and transportation markets. Our increasing product range solves more problems for our customers to help with everyday wear and tear for all mission-critical applications.
Our longest-serving single-component nylon epoxy hybrid coating. Nycote 7-11, meets approval for corrosion and wear protection by dozens of major aerospace designers and is easily applied by painting, spraying, or dipping.
This next-gen iteration of Nycote 7-11 with a new safer updated chemical tested for outgassing and suitable for protecting space equipment. Ecoshield 99 is one of our oldest and most trusted specialist thin film protective coatings built to withstand harsh environments from its effective and permanent barrier.

Our 2-component nylon epoxy hybrid coating. Approved by the world's largest aircraft builders. This flagship protective coating provides excellent high impact, abrasion resistance, flexibility, and toughness at extreme temperatures.
Nysafe AV has the same high-performance formulation as 7-11 with antiviral capabilities for high-contact areas. Our anti-viral thin film protective coatings are thoroughly tested for SARS-CoV2 (COVID-19) and protect against other harmful microbes and human pathogens. Meets FAR 25.853 and Southerland Rub Testing for aircraft cabin interiors.
Our conformal coating for electronics and PCBs. Based on our highly durable resin. Nyform is a self-leveling void-free technology and adheres to a large array of substrates. This coating protects electronics for long service in harsh conditions and meets IPCC-C-830.
Durable long-lasting machine readable coating that serves as an optical fingerprint over multiple substrate types. SurfaceTrace coating protects equipment and assures traceability and authenticity of components protecting your property and avoiding counterfeit parts.
Removes polymer coatings without highly toxic ingredients or damaging sensitive materials or parts. Nygone safely removes Nycote products when necessary without damaging the substrates surrounding areas.
---
To get in touch with our team please use the contact form or email us at sales@nycote.com.