How do Nycote® coatings keep you safe when you fly?
Have you ever wondered what is underneath the skin of an aircraft? Most people don't give it a second thought as they're flying along, but if you could see it you'd find a labyrinth of electrical wiring, wire harnesses, tubing and fasteners. On an aircraft critical applications require protection from heat, moisture, dust, dirt and solvents.
Electronics and electrical systems in airplanes are grounded via the aircraft's exterior body. In the event of a lightning-strike the body of the aircraft absorbs the excess electricity due to its conductive nature. It releases the electricity into the atmosphere through static dischargers.
Encapsulating aircraft bonding points protect sensitive electrical systems from harsh elements, and prevents static electricity build up that can interfere with radio and navigation equipment. Bonding provides lightning protection by allowing the current to pass through the airframe with minimum arcing.
Since the 1960's Nycote Laboratories Corporation has manufactured proprietary coating formulations specially designed for the Aerospace and Defense industries. These coating formulations are flexible, nylon polymer epoxy technology that delivers unrivaled pinhole-free, self-leveling protection in a clear thin film.
What's the difference between electrical grounding and bonding?

The act of bonding is simply joining two or more electrical conductors together and it doesn't have to mean two wires. It can mean anything that conducts electricity like a wire to a pipe or fastener, or wire to a frame or to an electrical housing.
In order to properly bond something, the bonding must be applied only to areas not intended to carry electrical current. Bonding itself does not protect the electrical system. However, if one piece of equipment is grounded, no electrical build-up can occur and that's what provides safety. A nylon coating like Nycote is Anti-conductive and excellent for encapsulating bonding points.
Grounding is electrical connecting of a conducting object to the primary structure or the live part (meaning the part which carries the current). This is normally done to protect the power system equipment and to provide an effective return path from the machine to the power source.
For example, grounding on an aircraft can be found on microwaves, ovens and coffee makers. Nycote nylon-based products are the preferred coatings for grounding machines and equipment on aircraft.
What is Nylon Polymer Resin and why should you use Nycote coatings?

Nylon is utilized to create a plethora of products ranging from plastics to industrial coatings due to its long lasting, cost-effective, strong, flexible, non-conductive, chemical and heat resistant properties. Nycote manufactures coatings with nylon to provide solutions that are effective for multiple applications and adhere to virtually anything.
Nylon-polymer-epoxy coatings can be used to impregnate other materials, or for corrosion prevention, electrical insulation applications, to provide friction reduction, and to protect surface materials from abrasion and wear.
Nycote 7-11, Nycote 88, and Nycote 99 are easy-to-use, one or two-part coating systems and can be applied by brush, spray, dip or roll-on method. They can also be tinted for identification purposes or completely clear for applications like part markings. Tinted or clear Nycote allow for visibility of the part through the cured coating.
How do Nylon Polymer resins protect electrical systems from corrosive substances and harsh environments?

Nycote coatings were invented to protect equipment and surfaces from caustic substances like hydraulic fluid and jet fuel. Typically, polymer epoxy systems were the go-to choice for such protection, but sometimes the rigidness of an epoxy will not withstand high vibrations or protect as long as flexible nylon. Nycote, with its nylon epoxy-polymer composition, will protect parts much longer than simple epoxy systems. That, coupled with the ability to resist highly corrosive fluids commonly used on aircraft, have made Nycote the perfect protective partner for decades.
Safeguarding airplanes, automobiles, marine vessels, and other industrial equipment from corrosion is a constant and critical battle. The electrical systems in all of these machines are expensive, sensitive, and exposed to extremely corrosive environments.
Additionally, electrical components need to be shielded from damaging heat and electrostatic discharge. Metals and plastics need to be coated to protect from corrosion caused by heat, water, microbes, fluids and greases.
Nycote is Trusted and Approved for Hundreds of Applications Inside and Outside the Aircraft

| | |
| --- | --- |
| Aircraft frames and parts prior to painting | Labeling plates |
| Brake rotors | Landing gear |
| Cabin seat connections | Lap joints |
| Center wing box | Lavatories |
| Drain mast assembly | Metal fasteners |
| Electrical circuit insulation | Nacelle |
| Electrical connection installations and grounding strap applications | Nose radome (interior) |
| Electrical fasteners | Nuts, bolts, and rivets |
| Flap track beams | Over other sealants for additional barrier |
| Floor beams | Rotary actuators |
| Fuel tanks/fuel cells (metal and fiberglass) | Seams |
| Galleys and lavatories/plumbing | Stair connections |
| Cargo and passenger doors | Threshold areas |
| Hydraulic cylinder walls and systems | Undercarriage |
| Instruction decals | Wing flaps |
| Interior of fuselage skins | Wire harness assembly |
What's exciting about the future of flight?

In Aerospace, technological advances will require trusted, proven, versatile and effective protection. From Space to Defense, UAVs, Supersonic and Hypersonic aircraft and missiles, PCBs (printed circuit boards), and avionics (fly-by-wire advancements). Whether it's encapsulation or impregnation of materials to make them stronger, lighter and/or more cost effective, all of these new technologies will demand next generation protection.
The coating systems manufactured by Nycote are trusted and proven in the industry and OEM's like Boeing, Airbus, Embraer, Raytheon, the U.S. Military and many others, turn to their coatings to provide protective solutions for newly developed technologies.
For example, Hypersonic and Supersonic flight are creating opportunities for Collins Aerospace Systems, a division of Raytheon Technologies Corporation, to innovate and provide cutting-edge solutions in avionics systems for the next generation of supersonic flight.
Nycote coatings are an advancement in a sector of aerospace that brings more opportunities to provide the best solutions for electrical and corrosion protection, ingress corrosion on sensitive components critical to flight capability.
What does the future hold for Nycote coating technology?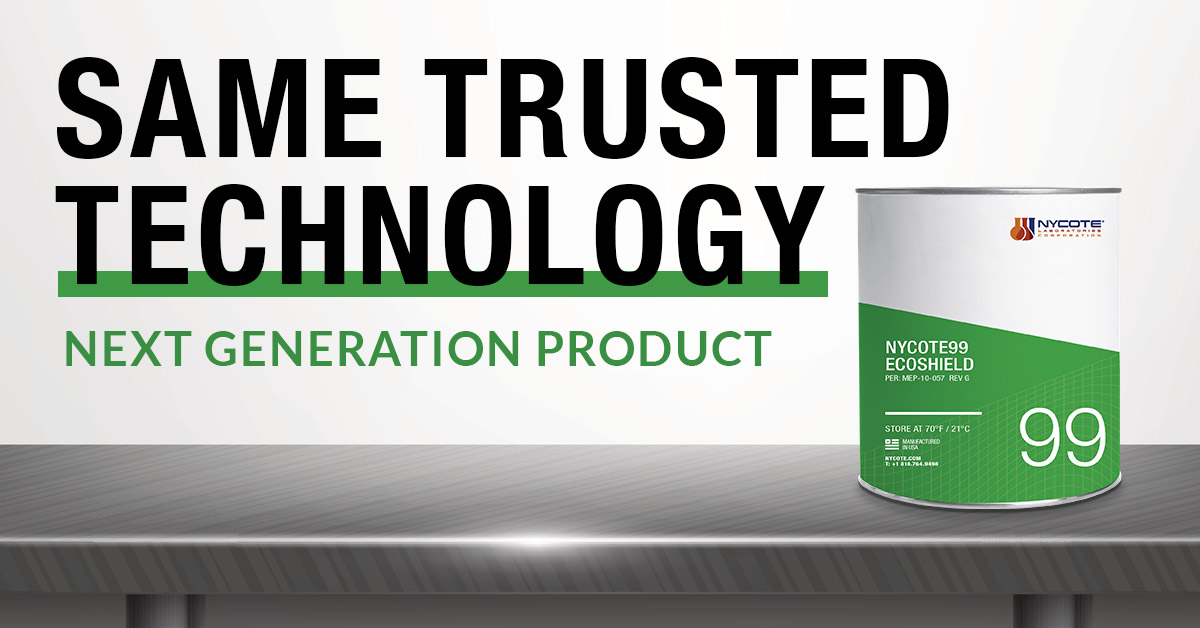 No other coating systems are as unique, versatile and easy to use as Nycote 7-11, 88 and 99 Ecoshield. The companies President & COO, Marcie Simpson is well positioned to lead the company into the future by formulating new, forward-thinking coatings for mission-critical systems.
Last year the company introduced Nycote 99 Ecoshield to the aerospace market and the coating was quickly accepted by the industry due to its' longer shelf life, better adhesion, and additional enhanced safety for the end user. Simpson said "Nycote endeavors to move the needle towards greener products and processes."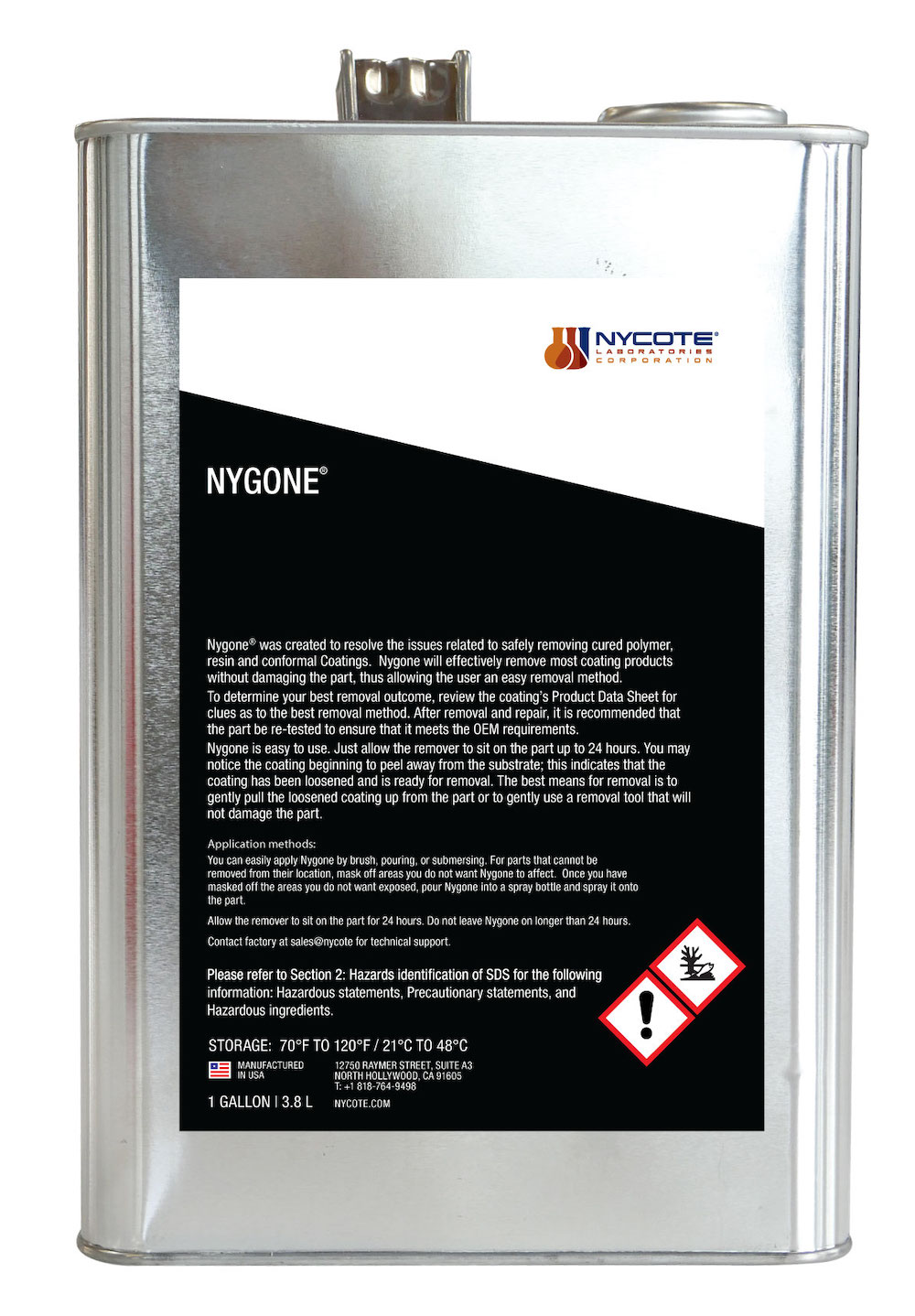 Another new offering from Nycote is their remover product, Nygone. If you're in the Aerospace or PCB market you understand the need to repair rather than replace parts.
Many paints and coating systems used today are extremely difficult to remove. Nygone solves that problem in its' one-part polymer-epoxy remover, which is applied through a spray bottle and left for 12 to 24 hours, making it possible to remove the paint or coating without damaging sensitive parts.
These are just two new Nycote product offerings and there are more coming soon!
Nycote has a long history of working directly with OEM's to provide them with custom coating solutions and unique partnerships. Simpson said "One of the best ways we can serve our customers across industries is to come alongside of them and work with their engineering teams. Understanding each customers unique product and need allows us to create new and customized solutions."
For a technical advisor contact sales@nycote.com
To find out more about Nycote products and services please see visit: https://www.nycote.com/