The Leader in Surface Protection Coating Technology
Launch new products with the best protection
Anti-Theft
Your Subtitle Goes Here
With a quick scan, Nycote's Surface Trace includes an optical fingerprint additive that provides a way to trace parts and keep them counterfeit-proof while making their way through the supply chain, thus delivering even more protection to your products.
Antiviral / Antimicrobial
Your Subtitle Goes Here
Nysafe™ provides a permanent barrier that delivers protection to high-touch surfaces. This safe and effective coating has been proven to have antimicrobial and biocidal activities against various pathogens while being safe for human touch.
Conductivity Control
Your Subtitle Goes Here
Trusted in aerospace for 60 years, Nycote's liquid nylon surface protection is a revolutionary barrier against corrosion, friction, and wear. With nylon-epoxy encapsulation abilities, you can be sure that your components are completely sealed and protected for mission-critical applications.
Conformal Coatings
Your Subtitle Goes Here
Nycote's Nyform is a next-generation conformal coating that binds to multiple substrates and offers superior adhesion and strength. Meets IPCC-C-830  Qualification And Performance Of Electrical Insulating Compound For Printed Wiring Assemblies
Contamination and Permeation Control
Your Subtitle Goes Here
Nycote's proprietary, high-performance liquid nylon-epoxy coatings provide the strength and flexibility required to contain fluids and vapors from permeating through a membrane.
Corrosion Prevention & Wear
Your Subtitle Goes Here
Extend the life of your products with Nycote® nylon-epoxy polymer coatings which act as single source protection against salt spray, oxidation, acidic chemicals, conductivity, and other corrosive elements.
Electrical Bonding
Your Subtitle Goes Here
Nycote® electrical bonding technology is the ultimate corrosion protection and your best defense against flashover and sparking.
Friction Reduction
Your Subtitle Goes Here
Nycote is ideal for a range of applications such as aircraft moving parts, heavy machinery, and  automotive and industrial applications. The strength of Epoxy combined with nylon flexibility is the perfect solution for encapsulating sliding and moving parts.
Removers
Your Subtitle Goes Here
Nygone is an easy and effective way to remove cured polymer, resin, and conformal coatings. Nygone has the ability to remove polymers without damaging your substrates.
Thinners & Surface Preparation
Your Subtitle Goes Here
Our All-Purpose Thinners are the perfect solution for cleaning application equipment and metal surfaces prior to applying Nycote®. This thoroughly cleans any residue that could interfere with Nycote's durability and corrosion resistance.
Windows & Glass
Your Subtitle Goes Here
Nycote coatings help protect window fasteners, seals, acrylic, glass, composites, and other plastics from the harsh environments that mass-transit and military assets are exposed to.
Trusted by numerous industries
Aerospace
Your Subtitle Goes Here
Trusted for over 60 years by major OEM leaders in the aerospace industry, Nycote's crosslinked copolymer coatings offer superior anti-corrosion protection from harsh industry conditions. Complete nylon encapsulation provides a pinhole-free high performing coating/sealant that is user-friendly and long-lasting.
Auto
Your Subtitle Goes Here
Nycote® automotive coatings provide high-performing long-lasting nylon-epoxy encapsulation for surfaces that are vulnerable and hard to access. Nycote coatings can be used as a coating or sealant to provide the strength and flexibility required for critical parts exposed to harsh environments.  Applications in areas such as door seals, panel seals, ducting seals, and sealing compartments, electronic components, and circuitry, as well as parts vulnerable to excessive vibration.
Drones / UAM / UAV
Your Subtitle Goes Here
Building on 60 years of industry-leading aerospace technology Nycote is effectively able to safeguard communication systems with low interference and without reducing sensitive electronic signals. Meets IPC-CC-830 standard for printed wire assemblies and PCBs.
Electronics
Your Subtitle Goes Here
Nycote products shield electronics from moisture in the environment and protect sensors, actuators, and other vital parts from ingress corrosion. Nycote's user-friendly formulations are nylon-epoxy encapsulation that withstands extreme environments.
Law Enforcement
Your Subtitle Goes Here
The investment in tactical gear is significant. From abrasion and wear to extreme environments, Nycote coatings provide the ultimate protection and keep your gear performing and looking great for the long haul. Our products protect textiles, metals, carbon fiber, synthetics, and more. The product line was originally developed for air and space products to protect critical assets from harsh environments and are now protecting your tactical gear.
Marine
Your Subtitle Goes Here
On the open sea, trust Nycote's unique self-leveling film technology that delivers 100% complete encapsulation over surfaces and will protect for years against saltwater corrosion, harsh temperatures, electrical conduction,  friction and much more.
Medical
Your Subtitle Goes Here
Keep life-saving equipment functioning longer against the wear and tear of daily use and provide revolutionary antimicrobial and biocidal protection from various human pathogens on high-touch surfaces.
Military and Defense
Your Subtitle Goes Here
Trusted in the air by major OEMs worldwide for over 60 years, Nycote protects the externals from the toughest of elements and the delicate and vital circuitry and internal mechanics.
Public Transport
Your Subtitle Goes Here
Preserve the inside and outside of public transportation with protective coatings that safeguard against chemicals, daily wear and tear, and other common degradative effects in transit such as battery acid, human pathogens, fuels, and much more.
Space
Your Subtitle Goes Here
Nycote coatings meet NASA standards for outgassing and are able to withstand extremely high and low temperatures. Nycote coatings can be used as a sealant to create superior protective performance by encapsulating mission-critical materials, parts, and mechanical systems
Textile
Your Subtitle Goes Here
Our formidable and flexible 3-dimensional polymer coatings are easy to apply and protect textiles through the entire supply chain. Delight your customers for years to come by adding Nycote protection to your process.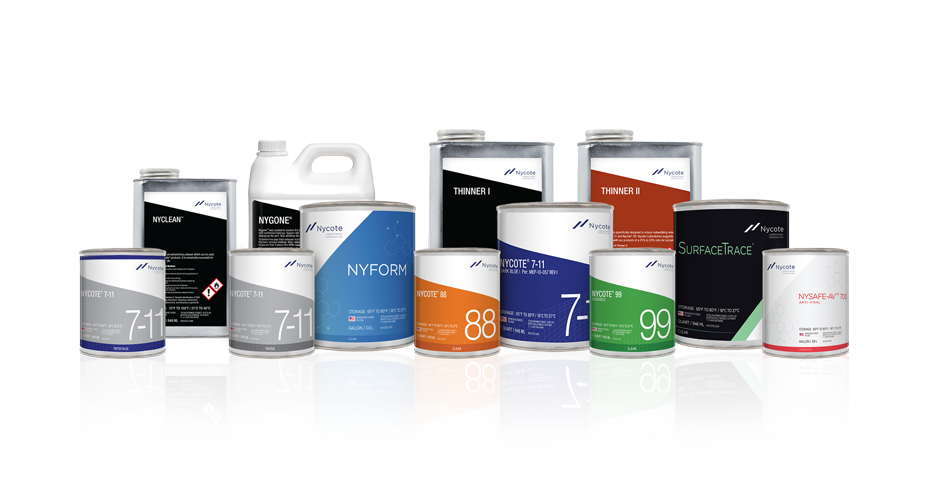 Enhance your product with protection you can trust