Troubleshooting Coating Application Appearance Issues
When you're painting a ​$400-million-dollar aircraft ​there is no room for error. Starting over is expensive, time-consuming and difficult, so you'll need to be sure that you take time to prepare your facility, surfaces, materials, and have a well thought out plan for executing each job.
Having a plan is important because industries like aerospace have strict quality standards and if the quality is off, you'll need to recall your exact process in order to resolve the problem.
Don't have time to read the full article? Download the Aircraft Painter's Field Guide to Troubleshooting Painting and Coating Appearance Issues.
Common Coating Issues
When a job is finished, it's easy to visually inspect if you did the job correctly, or if something went wrong during the process. Is the finish shiny and smooth, or rough, running, sagging, etc.?
What can be challenging to determine at first glance is what exactly went wrong ​during​ the application process. Here are the main considerations:
Was there dirt contamination?
Was the surface prepared incorrectly?
Was the coating applied according to the TDS?
Was the coating composition correct?
Was the coating stored improperly or was it expired?
There are many areas where coating applications can go sideways. Let's dive into the most common causes of coating issues.
Surface Preparation & Pre-treatment
Before we talk about contamination, let's talk about surface preparation. Besides common surface contaminants like dirt and dust, each coating typically has a specific way to prepare the surface and treat the substrate before application. Manufacturers have painstakingly tested their formulations on different substrates under various conditions to identify how to create the optimal coat and make it repeatable for their customers.
Pre-treatments may involve chemical treatments, mixing materials, or undergoing a specific physical cleaning process. If directions are unclear about how to prepare a specific surface, reach out to the manufacturer for clarification – it pays to avoid costly coating issues.
More about Nycote Technology: Antimicrobial Solutions in Aerospace: What's it really mean?

Contamination from Dirt, Dust, and Debris
Dirt, dust, and tiny particulate matter contamination can cost companies thousands, if not millions of dollars, if not taken care of properly. Dirt and debris could expose the substrate, making it vulnerable to the external factors you're trying to protect it from: water, Skydrol, acids, oils, etc.
Fortunately, this quality issue can be spotted relatively easily. Dirt and debris that breaks through cured films create craters or sometimes they're called fisheyes. While easy to spot, craters mean your coating will be ineffective, and will likely need to be redone. Other common appearance issues you can expect to find from particulate contamination are bumps, peeling, and blistering.
If contamination issues from dirt are recurring quality issues in your shop, the cause might be found in your filtration systems. If your air intake vents are dirty, and extraction fans are moving dust and particulate matter through your plant, then no matter how strict your painting protocols are, you're going to run into contamination issues again and again.
More about Nycote Technology: Protecting Electrical Bonding Points with Nycote
Spray Application Challenges
With your shop and surface properly cleaned, the next area that can cause coating defects is with the equipment you use to apply it. Visible markers like pinholes and rough, orange peel-like finishes indicate your operators may be using incorrect or contaminated equipment. Before operators start their job, be sure they're using clean, well-maintained equipment and the tools they use are appropriate for the type of material being applied.
Cobwebbing is another common coating application defect, which is the result of coating materials not correctly atomizing. The operator needs to adjust the air pressure of their spray-gun, which should eliminate poor transfer (a dry spray and/or droplets.) If the pressure is too high, the application will result in a rough texture instead of a smooth coat, which is usually identified as an orange peel effect.
The correct pressure and settings are required for the coating to atomize into small droplets that result into a superior finish. Note that Technical Data Sheets (TDS) may indicate spray-gun pressure and setting recommendations. If the settings are not included in the TDS, reach out to the manufacturer or distributor for clarification.
More about Nycote Technology: Advantages of Nycote's Self-Leveling, Nylon Epoxy Polymer

Spray-Gun Equipment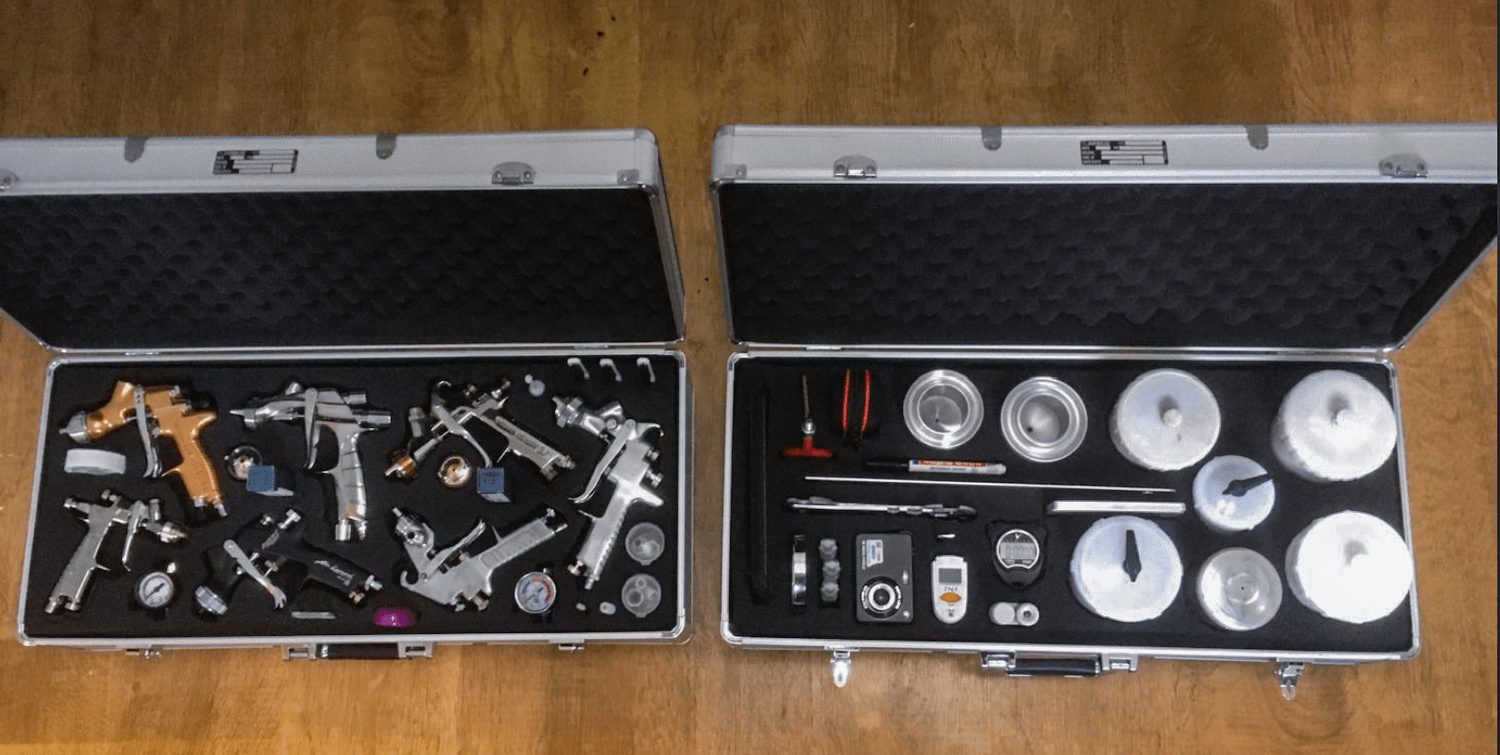 There are a variety of manufacturers and spray-gun types on the market today, and it really comes down to personal preference and budget.
In the Aerospace Industry, painters coating small parts and blending in a paint finish from new to old (instead of repainting the whole area), a gravity feed gun is best. Gravity feed guns provide more balance whilst painting, and because the paint cup is opaque, you have a visual on the remaining volume of paint. A suction feed gun won't offer the same balance or visibility and it can splutter when you tip the gun.
Spray-Gun Tip Size
Depending on the coating project and type of coating, be sure to select the correct spray-gun tip as recommended by the TDS, and also apply a high solids primer. Use a 1.4mm tip and needle setup to allow the coating to flow better.
When applying a polyurethane topcoat, clear or pigmented, you will need a near perfect-of-the-gun finish. On this type of application use a smaller tip such as 1.2mm. Lastly, the applicator must take into account the temperature and conditions that they are applying the coating in.
3M™ PPS
™
Paint Preparation System
The ​Series 2.0 Spray Cup System​ is the latest, best-performing disposable spray cup system. The system has been redesigned from the connection to the cup, improving the overall system and offering a complete disposable spray cup solution for mixing, measuring, filtering, spraying, and temporary sealing and protection of sprayable coatings.
Advantages
Reduce material waste by mixing in the cup
Improve fluid flow for more consistent application
Reduce solvent usage by up to 70%
Use your spray gun at any angle, even upside down
Reduce the chance of contamination between jobs
Coating Composition Issues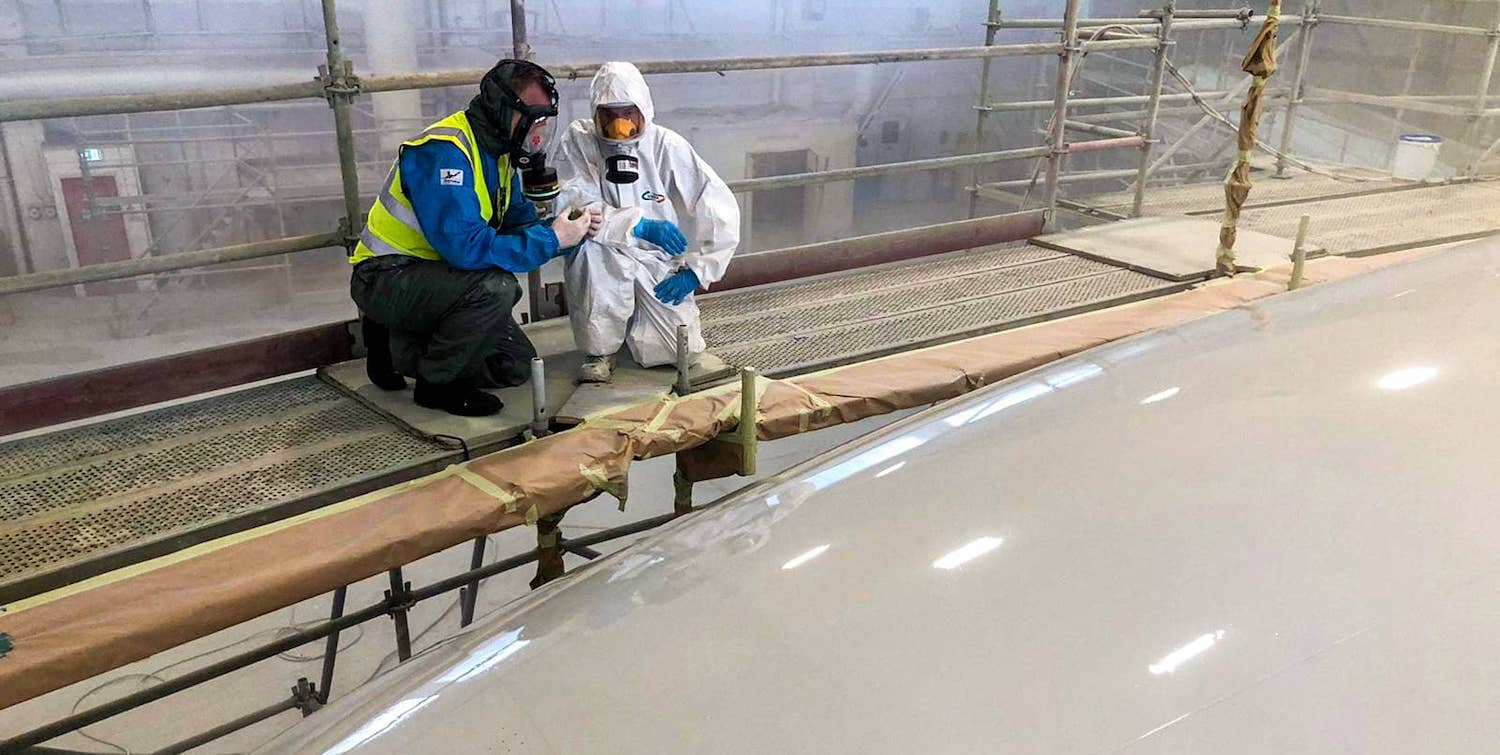 Blooming, blushing, runs, and sags, are visual indicators of materials having unbalanced surface tension, poor-quality resin, or environmental influences including humidity and temperature. Environmental Hazards, operator errors, and material flaws are just a few areas that professional technicians can consult with to find a solution to the error and ensure the problem is corrected for the future. Here are a few examples:
1. Hazards
Hazards like paint booth temperature often cause costly performance issues. Too cold and the gloss level will start to lose its sheen and dry a matte finish. Lower temperatures will also slow down the drying time and the coating may not self-level.
2. Unclean Spray Booths
Crumbling floors and dust settled on the walls will be attracted to wet, newly applied coating once the extraction fans are moving particles through the air. For those spraying often, investing in high-quality spray booths and equipment is a good idea.
3. Poor Lighting
When the painter cannot see the coating as it's being applied, the defects become visible once the coating is dry to the touch. At this point the part will require rework, which again results in loss of production and higher costs.
4. Storage and Data
It's important to check the Technical Data Sheet (TDS) which explains how the product should be stored. The TDS has a recommendation for temperature and humidity in the paint store. Coating issues related to storage requirements are the following:
A. Stored Too Cold
Coating will not lay down on the substrate and may cause a cloudy appearance. Do not use the coating in question. Warming could be an option.
B. Expired Coating
Before you begin mixing, check the expiration date and visually check the coating appearance. The coating may require warming, shaking or other preparations before mixing. In many cases high solids coatings need to go on the paint shaker for 10 minutes to break up the solid content.
C. Materials Ingredients
Always check the material data sheet to see what ingredients are in the product to help you choose the correct personal protective equipment (PPE) and spray-gun needed. A high-quality resin for example will have been passed by Aerospace companies to be used on their work and added to the overall specification, like Nycote.
Appearance issues are costly, but fortunately there are visible markers that help technicians and managers identify the probable cause of the issue. Consulting with professionals will likely help identify and eliminate coating defects saving your project and increasing your production rates.
More about Nycote Technology: Download Safety Data Sheets for Nycote Products
About the Authors
This article was written by Matt Churches, ADDEV Materials & Pennie Burnham, Nycote Laboratories Corporation
Two years-ago Nycote® Laboratories Corporation (NLC) chose Pexa LDT, now ADDEV Materials to be their EU distributor. ADDEV was chosen due to their ability to locally stock the NLC product line and to provide exceptional technical assistance to their customers in the region. The partnership has proven to be successful partly due to the highly skilled, technical professionals that ADDEV employs.
Matt Churches, who is part of the ADDEV technical team and is an approved trainer for the British Coating Federation, has provided our readers with his technical expertise explaining specific coating pain points that can be remedied with the proper technique and procedures. Matt is a well-known and respected painter in the aerospace industry. He's often called upon to troubleshoot difficult to diagnose coating defect issues, and has a unique way of working with paint shop employees to provide additional problem-solving skills to identify how their application went off track.​
More About Nycote Laboratories Corporation
Nycote Laboratories Corporation has provided safety coatings to the aerospace industry for decades. The product line consists of several easy-to-use, one-and-two-part systems that provide corrosion protection, electrical insulation, friction reduction and no microbial growth through their self-leveling, pinhole-free nylon epoxy technology.
Nycote is the only coating manufacturer designing coatings with this proprietary technology, and that is why OEM's like Boeing, Airbus, Embraer, Collins Aerospace, Honeywell, Raytheon, and many more trust Nycote's coatings.
For 60 years NLC has been on the cutting edge of Nylon technology. Nycote can provide customized formulations that adhere to all surfaces, and frequently collaborate with major aerospace engineering teams to design coatings to their specification.
Not only does Nycote provide superior coating technology, the company focuses on high-level customer satisfaction by providing end-users access to experienced technical advisors who've tested and applied the products first-hand. This ensures OEM Engineers can collaborate with skilled painting and coating professionals to eliminate issues before they begin.
Contact ​sales@nycote.com​ to speak with a technical specialist.